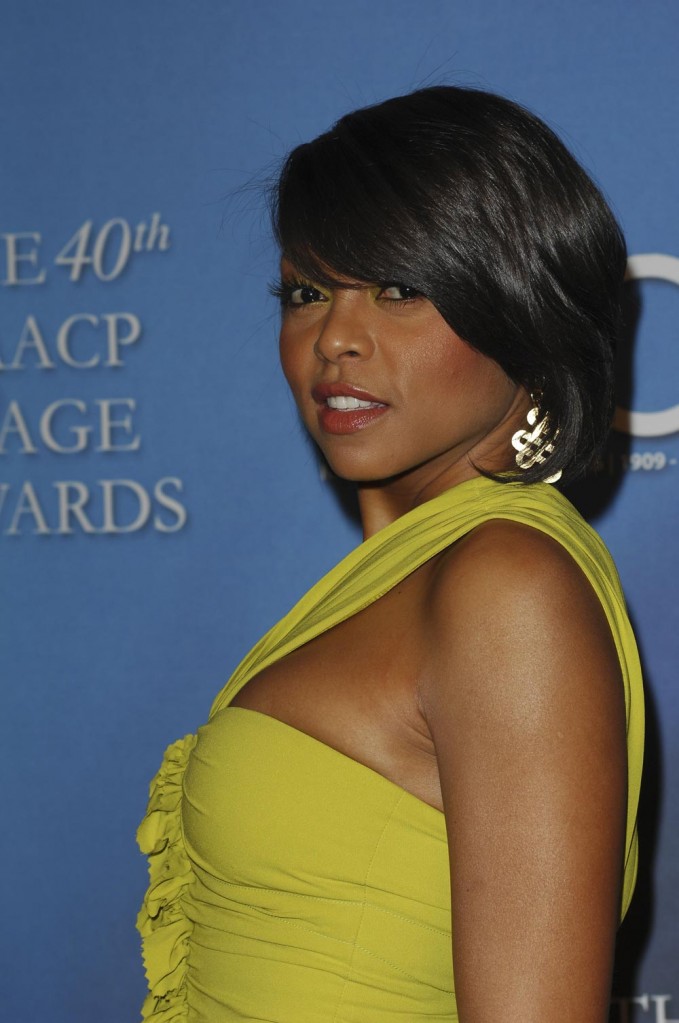 Oscar-nominated for her role in The Curious Case of Benjamin Button, Taraji P. Henson would seem to be on a career-high. Then she gave a very humble interview where she said that even though she's Oscar-nominated this year, she's still struggling to find work. Now more of Taraji's personal story of struggle, murder and hard work is being told.
Taraji was in her third year as a theatre major at Howard University when she became pregnant by her boyfriend, William Johnson. Taraji didn't drop out of school when she became pregnant, instead finishing her degree. Her son Marcel was born in 1995. His father was brutally murdered in 1997. Star magazine has more:
Taraji P. Henson is earning accolades as Brad Pitt's mother in The Curious Case of Benjamin Button, but her real-life story of being a single mom who had to overcome poverty and the murder of her son's father to make it in Hollywood is even more compelling.

In the Feb. 23 issue of Star — on sale now — we detail the actress' rough road to stardom, including how she became pregnant by her then-boyfriend William Johnson during her junior year as a theater major in college. The driven mom-to-be continued to perform in school productions — including singing and dancing in Dreamgirls during her second trimester — in hopes of becoming a working actor.

An unexpected pregnancy was one of many challenges, we report in our story. Her son Marcell's father was violently murdered — and Taraji found herself struggling, so she went on welfare. Fortunately, she had enough strength to see them both through those dark days and her efforts paid off — she's up for a best supporting Oscar for her Button role on Feb. 22 and 14-year-old Marcell is blossoming in high school.

"Taraji is a wonderful person and an excellent mother," Marcell's grandmother, Magrissa Johnson — William's mom — tells Star.
From Star Magazine
Last night Taraji won the NAACP Image award for Best Supporting Actress for her work in Benjamin Button. She is an award-winning actress with an incredible personal story, one that should have been told weeks, if not months ago. I'm serious – if more people had known, she would have been a shoo-in for the Oscar. The Academy loves to give Oscars to people with this kind of personal story of hard work, struggle and trauma. At the very least, I hope she's an actress we see a lot more of in the years to come.
Taraji Henson is shown at the NAACP Image Awards on 2/12/09. Credit: WENN
<a href='http://www.celebitchy.com/36411/taraji_hensons_sons_father_was_murdered_she_u
Also On Global Grind:
Every Time Blue Ivy's Baby Hair & Afro Was Flourishing & Beautiful
1. Blue kisses.
Source:Instagram
1 of 21
2. Basically twins.
Source:Instagram
2 of 21
3. Natural and beautiful in New York City.
Source:Getty
3 of 21
4. Blue Just Chillin'
Source:Instagram
4 of 21
5. Rihanna chats with Blue Ivy at the Grammys.
Source:Getty
5 of 21
6. Supporting mommy, natural hair and all.
Source:Getty
6 of 21
7. Caught dancing on camera!
Source:Getty
7 of 21
8. Blue Ivy Playtime
Source:Instagram
8 of 21
9. Flawless genes.
Source:Getty
9 of 21
10. Forget your beauty standards.
Source:Getty
10 of 21
11. Daddy duties.
Source:Splash
11 of 21
12. Blue's been natural since day one.
Source:Splash
12 of 21
13. Afro appreciation.
Source:Instagram
13 of 21
14. Priceless moments.
Source:Instagram
14 of 21
15. A Christmas memory.
Source:Instagram
15 of 21
16. Going up!
Source:Instagram
16 of 21
17. When your mom is Beyonce.
Source:Instagram
17 of 21
18. Bey & Jay PDA
Source:Instagram
18 of 21
19. Blue Ivy's Flourishing 'Fro
Source:Instagram
19 of 21
20. A Family Affair
Source:Instagram
20 of 21
21. Blue Ivy Natural and Beautiful
Source:Instagram
21 of 21