For NBA superstar, Allen Iverson, 2010 has been a rocky road. First, he missed a majority of the season to be with his family which is affecting his career. Then he announced last month that he would be leaving the NBA to focus more on his his daughter Messiah, who is extremely ill.
And now his wife Tawanna Iverson has filed for divorce from their 8 1/2 year marriage. The Atlanta Journal Constitution reported from court records, that Tawanna filed for divorce as the marriage was 'irretrievably broken.' The high school sweethearts were married in August of 2001 and they have five children together, ranging in the ages of 17 months to 15 years.
What else wrong can happen to Allen? Let's hope nothing else.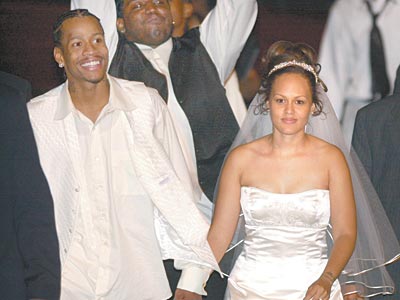 Check out some old school pics of Allen Iverson
Come check out my thoughts @GunneRJane Mwahz!
Also On Global Grind:
Every Time Blue Ivy's Baby Hair & Afro Was Flourishing & Beautiful
1. Blue kisses.
Source:Instagram
1 of 24
2. Beyonce and Blue Ivy...like mother, like daughter
Source:Instagram
2 of 24
3. Basically twins.
Source:Instagram
3 of 24
4. Bey and Blue snuggle
Source:Instagram
4 of 24
5. Natural and beautiful in New York City.
Source:Getty
5 of 24
6. Blue Ivy in pigtails
Source:Instagram
6 of 24
7. Blue Just Chillin'
Source:Instagram
7 of 24
8. Rihanna chats with Blue Ivy at the Grammys.
Source:Getty
8 of 24
9. Supporting mommy, natural hair and all.
Source:Getty
9 of 24
10. Caught dancing on camera!
Source:Getty
10 of 24
11. Blue Ivy Playtime
Source:Instagram
11 of 24
12. Flawless genes.
Source:Getty
12 of 24
13. Forget your beauty standards.
Source:Getty
13 of 24
14. Daddy duties.
Source:Splash
14 of 24
15. Blue's been natural since day one.
Source:Splash
15 of 24
16. Afro appreciation.
Source:Instagram
16 of 24
17. Priceless moments.
Source:Instagram
17 of 24
18. A Christmas memory.
Source:Instagram
18 of 24
19. Going up!
Source:Instagram
19 of 24
20. When your mom is Beyonce.
Source:Instagram
20 of 24
21. Bey & Jay PDA
Source:Instagram
21 of 24
22. Blue Ivy's Flourishing 'Fro
Source:Instagram
22 of 24
23. A Family Affair
Source:Instagram
23 of 24
24. Blue Ivy Natural and Beautiful
Source:Instagram
24 of 24