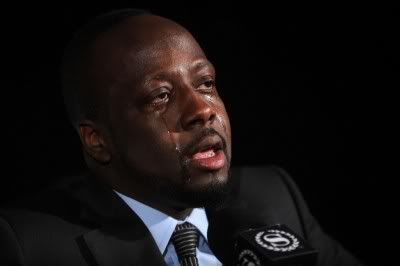 And the drama surrounding Wyclef's Yele Haiti and alleged inappropriate activity continues. The Gawker website seems to have it out for Wyclef as they've been claiming for a while now that Wyclef has been embezzling funds from his own Yele Haiti foundation. He's denied it many times. Now, the site claims Wyclef's been taking over $100K from his org to fund the lifestyle of his alleged mistress/"independent contractor" Zakiya Khatou-Chevassus–who also used to work with 'Clef. The site claims:
She worked for Wyclef on all Wyclef matters," an unnamed source told the Web site. "She did whatever Wyclef needed that day, whether it was related to Yele or not. She would do things like book flights, and she wasn't very good at it. It's a shame that she made that much money."
Though she reportedly acted as the singer's personal assistant, Khatou-Chevassus' salary was more than three times what Yele's program director received, and the two were said to be romantically involved, Gawker reported.
"Everyone knows they were in a relationship," said another unnamed source. "A dozen people, including me, saw and knew. It wasn't a secret."
Wyclef's rebuttal Tweets and more when you read the rest…
Wyclef posted these Tweets this week in response:
When Donkeys spread rumors about me I dont Respond cause I'm the master that leads them to the Well to drink the Water. Yele haiti 4 life!

If you Ride with me you are on the Right side or you can follow your slave master and believe what he tells you. Yele haiti 4 life

Since some of you like to believe everything you read with out having Facts pass this around! Wyclef is A Alien
from out of space.

I have been spending money n my country since I was a Fugees! why is it now after the Quake I am being Excuse! They fear I'm gaining ground
Also On Global Grind:
20 photos
Launch gallery
1 of 20
1. Justin Combs: Then
Source:Instagram
2 of 20
2. Now.
3 of 20
3. Samaria Lea Smith: Then
Source:Instagram
4 of 20
4. Now.
5 of 20
5. Russy Simmons: Then
6 of 20
6. Now.
7 of 20
7. Tiny's daughter Zonnique Pullins: Then
Source:Instagram
8 of 20
8. Now.
9 of 20
9. Lily Rose Depp: Then
Source:Instagram
10 of 20
10. Now.
11 of 20
11. Reginae Carter: Then
Source:Instagram
12 of 20
12. Now.
13 of 20
13. Hailey Baldwin: Then
Source:Instagram
14 of 20
14. Now.
15 of 20
15. Paris Jackson: Then
Source:Instagram
16 of 20
16. Now.
17 of 20
17. Kendall & Kylie Jenner: Then
Source:Instagram
18 of 20
18. Now.
19 of 20
19. Willow and Jaden Smith: Then
20 of 20
20. Now.