Sometimes it's kind of ridiculous when rappers aren't creative enough to come up with a clever rap name. 50 Cent, Rick Ross and Scarface are just a few examples. Not taking away anything from their talent; these guys have sold millions of records and had everyone dancing to their music, just saying, a little creativity when coming up with a rap name would be much appreciated.
It's easy to name yourself after a gangster for example, Tony Montana aka "Scarface" from the 1983 Brian Depalma directed movie about a Cuban man's rise from rags to riches in his takeover of the drug trade. Eminem, Kanye West, and Lloyd Banks are all artists that kept their name, flipped their name or came up with a creative moniker for themselves. So what's behind these rapper names?
50 Cent 'Curtis Jackson'from Jamaica Queens, NY
50 from Brooklyn 'Kelvin Darnell Martin', stick-up kid from Brooklyn during the 1980's.
[pagebreak]
N.O.R.E. or Norega, Victor Santigo Jr., Rapper from Queens,NY & other half of group Capone-N-Norega.
Manuel Noriega, the general and former military leader of Panama.Noriega was tried on eight counts of drug trafficking, racketeering, and money laundering in April 1992.
[pagebreak]
Kiam Akasi Holley aka Capone, the other member of Capone-N-Norega, got his his name from famed 1930's gangster Al Capone.
[pagebreak]
Scarface better known as Brad Jordan, famed Houston, TX rapper and member of the Geto Boys.
Antonio Montana, 'Scarface' played Academy Award winning actor Al Pacino. The story of a Cuban immigrant that climbed up the ranks through the drug game and became the most powerful man in Miami.
[pagebreak]
Tony Yayo, aka Marvin Bernard, rapper from Jamaica Queens, NY and famed member of G-Unit. Again we see here the Scarface connection, Tony Montana and the Spanish word for Cocaine 'Yayo'.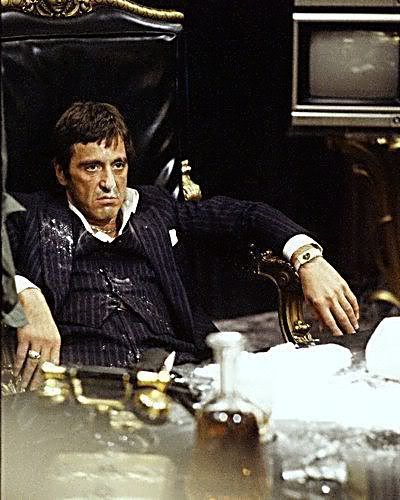 [pagebreak]
Styles P, David Styles, the Yonkers, NY MC is known for his gritty street rhymes as part of the group The L.O.X., The P stands for his two favorite actors Al Pacino & Robert De Niro hence Styles Paniro.
<img src='http://userser
Also On Global Grind:
27 photos
Launch gallery
Source:Instagram
1 of 27
1. Kanye X Adidas. Thank u to Yé for believing in me
Source:Instagram
2 of 27
2. excited to be apart of CR fashion book issue 6 @crfashionbook @carineroitfeld #crfashionbook
Source:Instagram
3 of 27
3. Today's vibes
Source:Instagram
4 of 27
4. Selfie
Source:Instagram
5 of 27
5. Nighty night
Source:Instagram
6 of 27
6. thank u Phillip Lim. Dope show 😍
Source:Instagram
7 of 27
7. Last nights look- Calvin Klein top & skirt, Givenchy coat, Manolo heels
Source:Instagram
8 of 27
8. Hehe my sneak peak vid of my contact look they put on me got bigger than I intended.
Source:Instagram
9 of 27
9. Wolfie
Source:Instagram
10 of 27
10. OOTD/OOTN
Source:Instagram
11 of 27
11. Last night wearing Alexander Wang head to toe!
Source:Instagram
12 of 27
12. I never take selfies with the front camera who knew this shit was so good. Lol. Makeup by me duuuuh
Source:Instagram
13 of 27
13. Turn up.
Source:Instagram
14 of 27
14. #OneEye
Source:Instagram
15 of 27
15. Really though? #SideEye
Source:Instagram
16 of 27
16. Boobs & Hair
Source:Instagram
17 of 27
17. Boobs & Hair
Source:Instagram
18 of 27
18. Ravishing In Red
Source:Instagram
19 of 27
19. Kim Rockin' The Hell Out Of Her Red
Source:Instagram
20 of 27
20. these grocery bags match my fly
Source:Instagram
21 of 27
21. I wore this look the other night on my date night
Source:Instagram
22 of 27
22. Dress In All White
Source:Instagram
23 of 27
23. All White Like An Angel
Source:Instagram
24 of 27
24. Just changed my #KylieHairKouture extensions to my jet black 20" clip ins :)
Source:Instagram
25 of 27
25. Morning Melbourne
Source:Instagram
26 of 27
26. Kylizzle X
Source:Instagram
27 of 27
27. Kim Kizzle