Sometimes it's kind of ridiculous when rappers aren't creative enough to come up with a clever rap name. 50 Cent, Rick Ross and Scarface are just a few examples. Not taking away anything from their talent; these guys have sold millions of records and had everyone dancing to their music, just saying, a little creativity when coming up with a rap name would be much appreciated.
It's easy to name yourself after a gangster for example, Tony Montana aka "Scarface" from the 1983 Brian Depalma directed movie about a Cuban man's rise from rags to riches in his takeover of the drug trade. Eminem, Kanye West, and Lloyd Banks are all artists that kept their name, flipped their name or came up with a creative moniker for themselves. So what's behind these rapper names?
50 Cent 'Curtis Jackson'from Jamaica Queens, NY
50 from Brooklyn 'Kelvin Darnell Martin', stick-up kid from Brooklyn during the 1980's.
[pagebreak]
N.O.R.E. or Norega, Victor Santigo Jr., Rapper from Queens,NY & other half of group Capone-N-Norega.
Manuel Noriega, the general and former military leader of Panama.Noriega was tried on eight counts of drug trafficking, racketeering, and money laundering in April 1992.
[pagebreak]
Kiam Akasi Holley aka Capone, the other member of Capone-N-Norega, got his his name from famed 1930's gangster Al Capone.
[pagebreak]
Scarface better known as Brad Jordan, famed Houston, TX rapper and member of the Geto Boys.
Antonio Montana, 'Scarface' played Academy Award winning actor Al Pacino. The story of a Cuban immigrant that climbed up the ranks through the drug game and became the most powerful man in Miami.
[pagebreak]
Tony Yayo, aka Marvin Bernard, rapper from Jamaica Queens, NY and famed member of G-Unit. Again we see here the Scarface connection, Tony Montana and the Spanish word for Cocaine 'Yayo'.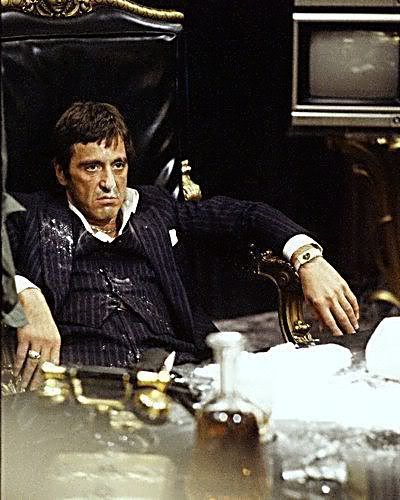 [pagebreak]
Styles P, David Styles, the Yonkers, NY MC is known for his gritty street rhymes as part of the group The L.O.X., The P stands for his two favorite actors Al Pacino & Robert De Niro hence Styles Paniro.
<img src='http://userser
Also On Global Grind:
Every Time Blue Ivy's Baby Hair & Afro Was Flourishing & Beautiful
1. Blue kisses.
Source:Instagram
1 of 21
2. Basically twins.
Source:Instagram
2 of 21
3. Natural and beautiful in New York City.
Source:Getty
3 of 21
4. Blue Just Chillin'
Source:Instagram
4 of 21
5. Rihanna chats with Blue Ivy at the Grammys.
Source:Getty
5 of 21
6. Supporting mommy, natural hair and all.
Source:Getty
6 of 21
7. Caught dancing on camera!
Source:Getty
7 of 21
8. Blue Ivy Playtime
Source:Instagram
8 of 21
9. Flawless genes.
Source:Getty
9 of 21
10. Forget your beauty standards.
Source:Getty
10 of 21
11. Daddy duties.
Source:Splash
11 of 21
12. Blue's been natural since day one.
Source:Splash
12 of 21
13. Afro appreciation.
Source:Instagram
13 of 21
14. Priceless moments.
Source:Instagram
14 of 21
15. A Christmas memory.
Source:Instagram
15 of 21
16. Going up!
Source:Instagram
16 of 21
17. When your mom is Beyonce.
Source:Instagram
17 of 21
18. Bey & Jay PDA
Source:Instagram
18 of 21
19. Blue Ivy's Flourishing 'Fro
Source:Instagram
19 of 21
20. A Family Affair
Source:Instagram
20 of 21
21. Blue Ivy Natural and Beautiful
Source:Instagram
21 of 21