Besides the soccer games, the most important thing to come out of this year's World Cup is Larissa Riquelme, everyone's favorite soccer fan.
The worst part about Paraguay losing to Spain was the thought that Larissa would be no more. What a disappointment it would be if we didn't get a chance to see her pose nude just because her team lost. But Larissa let us all know during the weekend that she would still pose nude calling it a 'gift to the players and all of Paraguay.'
Larissa released a few behind the scenes shots from her photoshoot that took place on the field at her favorite team's stadium, General Pablo Rojas the home of Cerro Porteño in the capital Assunção.
Check out the photos!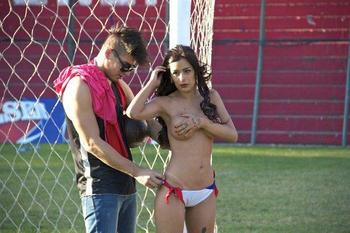 [pagebreak]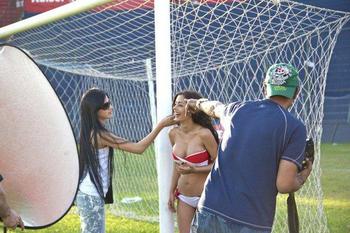 [pagebreak]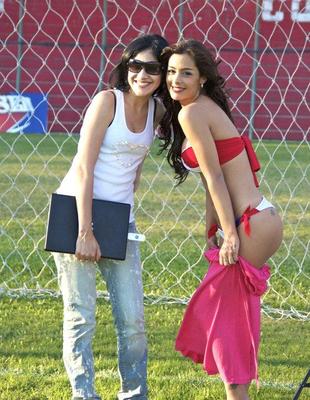 Also On Global Grind:
Every Time Blue Ivy's Baby Hair & Afro Was Flourishing & Beautiful
1. Blue kisses.
Source:Instagram
1 of 25
2. Beyonce and Blue Ivy...like mother, like daughter
Source:Instagram
2 of 25
3. Basically twins.
Source:Instagram
3 of 25
4. Bey and Blue snuggle
Source:Instagram
4 of 25
5. Natural and beautiful in New York City.
Source:Getty
5 of 25
6. Blue Ivy in pigtails
Source:Instagram
6 of 25
7. Blue Just Chillin'
Source:Instagram
7 of 25
8. Rihanna chats with Blue Ivy at the Grammys.
Source:Getty
8 of 25
9. Supporting mommy, natural hair and all.
Source:Getty
9 of 25
10. Caught dancing on camera!
Source:Getty
10 of 25
11. Blue Ivy Playtime
Source:Instagram
11 of 25
12. Flawless genes.
Source:Getty
12 of 25
13. Forget your beauty standards.
Source:Getty
13 of 25
14. Daddy duties.
Source:Splash
14 of 25
15. Blue's been natural since day one.
Source:Splash
15 of 25
16. Afro appreciation.
Source:Instagram
16 of 25
17. Priceless moments.
Source:Instagram
17 of 25
18. A Christmas memory.
Source:Instagram
18 of 25
19. Going up!
Source:Instagram
19 of 25
20. When your mom is Beyonce.
Source:Instagram
20 of 25
21. Bey & Jay PDA
Source:Instagram
21 of 25
22. Blue Ivy's Flourishing 'Fro
Source:Instagram
22 of 25
23. Blue and Bey sending smooches
Source:Instagram
23 of 25
24. Blue Ivy Natural and Beautiful
Source:Instagram
24 of 25
25. A family affair
Source:Instagram
25 of 25