Yesterday was so hot in NYC all I did was regret my fashion choice of the morning and dreamed of walking down 7th Ave in cut offs, and I'm talking seemingly inappropriate cut offs. That got me thinking, 'Whats summer without the HotPants!' So I revisited some of my favorite fashion houses Spring/Summer 2010 collections and celebrity sightings and present you all with this post!
Ladies in this heat, don't be afraid to let a little cheek hang. The great thing about Cheeky shorts is, they are very DIY (Do It Yourself.) Take your old winter denim and slice and dice those bad boys into a cheeky sensation!! But here's a little disclaimer! CHEEKY IS FINE, CHEEKY AND SKIN TIGHT IS JUST DISRESPECTFUL! So in honor of the summer ladies, and some guys, if thats' your thing- this is a judgement free zone, pull out the denim, and scissors and let's get CHEEKY!!
Wranglers Ultra Cheeky Short!
[pagebreak]
Celebs in Cut Offs
[pagebreak]
Victoria Beckham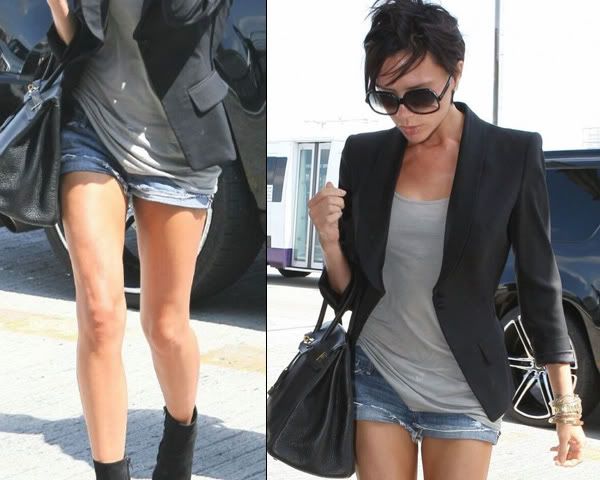 [pagebreak]
Blank 'Epidemic' Short
[pagebreak]
Ashley Olsen
[pagebreak]
Topshop Patchy Shorts
[pagebreak]
Megan Good
[pagebreak]
True Religion Dye Tied Joey Shorts
[pagebreak]
Agyness Dyen
[pagebreak]
JBrand Denim Cutties
[pagebreak]
Alesandra Ambrosio
[pagebreak]
William Rast LightHearted Shorts
[pagebreak]
Kelly Rowland
[pagebreak]
Siwy Camilla Studded Shorts
[pagebreak]
Selma Blair
Also On Global Grind:
27 photos
Launch gallery
Source:Instagram
1 of 27
1. Kanye X Adidas. Thank u to Yé for believing in me
Source:Instagram
2 of 27
2. excited to be apart of CR fashion book issue 6 @crfashionbook @carineroitfeld #crfashionbook
Source:Instagram
3 of 27
3. Today's vibes
Source:Instagram
4 of 27
4. Selfie
Source:Instagram
5 of 27
5. Nighty night
Source:Instagram
6 of 27
6. thank u Phillip Lim. Dope show 😍
Source:Instagram
7 of 27
7. Last nights look- Calvin Klein top & skirt, Givenchy coat, Manolo heels
Source:Instagram
8 of 27
8. Hehe my sneak peak vid of my contact look they put on me got bigger than I intended.
Source:Instagram
9 of 27
9. Wolfie
Source:Instagram
10 of 27
10. OOTD/OOTN
Source:Instagram
11 of 27
11. Last night wearing Alexander Wang head to toe!
Source:Instagram
12 of 27
12. I never take selfies with the front camera who knew this shit was so good. Lol. Makeup by me duuuuh
Source:Instagram
13 of 27
13. Turn up.
Source:Instagram
14 of 27
14. #OneEye
Source:Instagram
15 of 27
15. Really though? #SideEye
Source:Instagram
16 of 27
16. Boobs & Hair
Source:Instagram
17 of 27
17. Boobs & Hair
Source:Instagram
18 of 27
18. Ravishing In Red
Source:Instagram
19 of 27
19. Kim Rockin' The Hell Out Of Her Red
Source:Instagram
20 of 27
20. these grocery bags match my fly
Source:Instagram
21 of 27
21. I wore this look the other night on my date night
Source:Instagram
22 of 27
22. Dress In All White
Source:Instagram
23 of 27
23. All White Like An Angel
Source:Instagram
24 of 27
24. Just changed my #KylieHairKouture extensions to my jet black 20" clip ins :)
Source:Instagram
25 of 27
25. Morning Melbourne
Source:Instagram
26 of 27
26. Kylizzle X
Source:Instagram
27 of 27
27. Kim Kizzle