How ironic is it that we fancy, Marc Jacobs unclothed than clothed? The Creative Director for Louis Vuitton and designer for his eponymous line is known for the art he creates with fabrics, but in the latest issue of Harpers Bazaar the New York resider poses calm, cool, and collected, hiding his man jewels under a simple white and gold trimmed terry cloth throw.
In his interview he speaks on his decision to do a nude ad for his new male fragrance Bang: 'Im not Tom Ford in terms of the grooming and the knowledge of clothes and the precision and perfection of getting dressed. There's nothing I can wear in this ad that isn't going to look ridiculous. At one point, I tried jeans and a shirt, and it didn't work. So then Juergen said, 'Take off the clothes.' So I did, and that became the ad. I did feel good about the way I looked, so it was easy and—well, a guy looks better to me with no clothes on than with clothes! "- Marc Jacobs
Want to know what you can look forward to from Marc's Fall Collection, he shares that info on the next page, and a look at the controversial Ad for Bang.
[pagebreak]

'At one point, I got really into this melancholy mood. The New York collection is really a reflection of my personal life. It's not literally a reflection, but it definitely permeates. [For fall] we wanted to do something that was quite sober and very pretty in color, with just touches of yellow. It was the most beige and gray collection I've ever done in my life, really very little pattern. We looked at old photographs, and it wasn't the images in the photographs that were interesting; it was the sepia tones, the blacks and whites and grays."-Marc Jacobs
Ad for Bang Next Page
[pagebreak]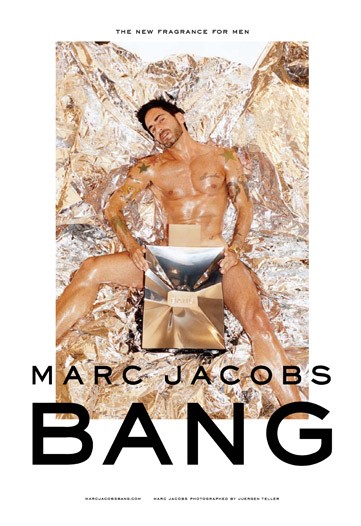 Also On Global Grind:
Every Time Blue Ivy's Baby Hair & Afro Was Flourishing & Beautiful
1. Blue kisses.
Source:Instagram
1 of 21
2. Basically twins.
Source:Instagram
2 of 21
3. Natural and beautiful in New York City.
Source:Getty
3 of 21
4. Blue Just Chillin'
Source:Instagram
4 of 21
5. Rihanna chats with Blue Ivy at the Grammys.
Source:Getty
5 of 21
6. Supporting mommy, natural hair and all.
Source:Getty
6 of 21
7. Caught dancing on camera!
Source:Getty
7 of 21
8. Blue Ivy Playtime
Source:Instagram
8 of 21
9. Flawless genes.
Source:Getty
9 of 21
10. Forget your beauty standards.
Source:Getty
10 of 21
11. Daddy duties.
Source:Splash
11 of 21
12. Blue's been natural since day one.
Source:Splash
12 of 21
13. Afro appreciation.
Source:Instagram
13 of 21
14. Priceless moments.
Source:Instagram
14 of 21
15. A Christmas memory.
Source:Instagram
15 of 21
16. Going up!
Source:Instagram
16 of 21
17. When your mom is Beyonce.
Source:Instagram
17 of 21
18. Bey & Jay PDA
Source:Instagram
18 of 21
19. Blue Ivy's Flourishing 'Fro
Source:Instagram
19 of 21
20. A Family Affair
Source:Instagram
20 of 21
21. Blue Ivy Natural and Beautiful
Source:Instagram
21 of 21