Have you ever been plagued by infinite sadness or overwhelmed by a vulnerable circumstance?
Many people will begrudgingly say "yes," but most of the time we scurry through life hiding our deepest fears and suppressing our emotions (good and bad).
It's no secret Toronto rapper Drake is the "King Of Emo Hip-Hop," but with the leaked version of his third studio album, Nothing Was The Same, some of us have been forced once again to confront our emotional demons head on.
We've all given Drake hell for being overly emo, but this time we're giving him a pass, because we're feeling his sentiments on NWTS.
No, Drake we reaaallyyy feel you.
In honor of the emotional roller coaster Nothing Was The Same takes its listener on, GlobalGrind has given a complete visual explanation of the world's emotional reaction to Drizzy's new album.
Take a few minutes out of your day and get emotional to Drake's new album below.
When the intro of "Tuscan Leather" begins…you begin to smile because Nothing Was The Same starts off great.
Then the beat drops….
As the instrumental part of "Tuscan Leather" floods your speakers…you start thinking about the past.
In a really intense minute, you quickly realize you're somewhere in between psychotic and iconic.
And you start thinking about your ex, yeah, the ex you love-hate.
But then "Furthest Thing" comes on and you get a little emo reminiscing about the "good times." Next thing you know, you start drinking on the low…
and smoking on the low…
And then you realize you're the furthest thing from perfect…like everyone else you know.
Then the song ends, and you're like "F*ck that! All I need is my friends."
Started….
Why worry about an ex when you got friends? Lots of them….
Just when you were feeling better about life…Wu-Tang Clan's "It's Yourz" comes on in the club…and the memories of your ex come flooding back…but you remember.
You try to cope, so you start scrolling through your phone to find a rebound.
After you take the "walk of shame," you realize your random sexual encounter didn't make you feel better.
And then you start to cry…
uncontrollably….
The whole entire time Drake sings "Own It"
Then you ask yourself a rhetorical question like…
And then you tell yourself repeatedly…
After you stop crying, you come back like return of the mack…
On your "worst behavior"…
Because you remember that motherf*cker (your ex) never loved you…
and then you remember your ex owes you money…
Then you get sad again, because you don't have the balls to really pimp slap your ex.
And deep down inside you wish you all could've worked it out.
Then Jhene Aiko's angelic voice rings over the speakers on "From Time" and all you want to do is…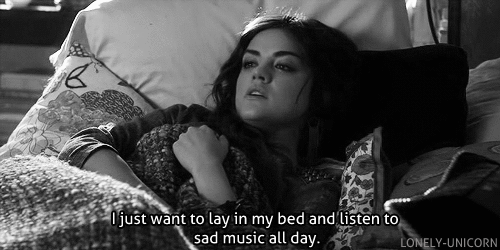 Lost in sadness, you pick up your phone and do the unthinkable…text your ex.
Like "Can We Be Friends?"
Then your ex responds with a Vine of Drake singing "Hold On, We're Going Home."
And then you're in love again….or at least for the time being.
But then you remember there's a reason why you broke up and should stay broken up.
But your ex says "how about we just smoke and hang out" and you respond "now, that's my language."
You know that your relationship will never work out, but you can't stop thinking about the possibilities.
So you both decide to call it a truce and go your separate ways as distant friends. Because really…
you're too busy paper chasing and getting that cake to be wrapped up in a relationship.
And the only person you need in life is yourself. Straight "all me," myself, and I swag.
As soon as the last Nothing Was The Same track goes off, you're hit with the realization that…
NWTS was emotional, but thank you Drake.
Also On Global Grind:
10 photos
Launch gallery
PHOTOS OF THE DAY: Jay Z, Beyonce, Usher, & More
Source:Splash News
1 of 10
1. Gwen Stefani takes her children to church, but if you look closely, one of them didn't think she was serious about leaving him behind.
Source:Splash News
2 of 10
2. Janelle Monae put on one hell of a show at the 9th Annual Clinton Global Citizen Awards event in NYC.
Source:Splash News
3 of 10
3. Johnny Knoxville gave his son Rocko a ride on his shoulders, while his daughter Arlo held onto his wallet chain through the busy Studio City Farmers Market.
Source:Splash News
4 of 10
4. John Legend is going to get some wings for dinner. Well, maybe not, but Chrissy Teigen did do some grocery shopping in L.A.
Source:Splash News
5 of 10
5. Chiwetel Ejiofor was spotted with his new girlfriend while leaving their hotel in NYC. Isn't she lovely?
Source:Splash News
6 of 10
6. Usher's new wife Grace Miguel leaves their hotel to hit up "The Martian" premiere in New York.
Source:Splash News
7 of 10
7. Christina Milian got a cupcake from a photographer for her birthday after going shopping in West Hollywood.
Source:Splash News
8 of 10
8. Usher leaves his NYC hotel with his wife shortly behind.
Source:Splash News
9 of 10
9. Beyonce flashed a smile after grabbing some pizza with her husband in Brooklyn.
Source:Splash News
10 of 10
10. Hov was on hand in BK as well.