Amare Stoudemire Says He Will Observe Jewish Holidays: How Will This Affect Him?
Advertisement
As most of you know, New York Knicks star Amare Stoudemire is vacationing in Israel. Eveyone in the sports world and everywhere else was wondering if he is actually Jewish or not, so he cleared up what he is doing on his Twitter page and I quote 'I'm studying history & want 2 learn about all religions. I think I might have some Hebrew Roots & i'm researching it.' He has also been tweeting about his whole trip with Hebrew words like 'Boker Tov,' good morning, and 'Lechayim,' to life.
This week, he was interviewed by the Israeli sports news station Sport5 and was asked about what he has been doing and what he plans on doing with his new heritage and religion. He is very confident that he can observe Judaism without it affecting him on the court and he is even wearing a Yarmulke (traditional head covering), but many people will say that he can not hold to it or it will take his focus away from the game.
After watching the interview, I will go on to explain what all of his commitments to the religion will do to his game and if it is possible for him to keep it up.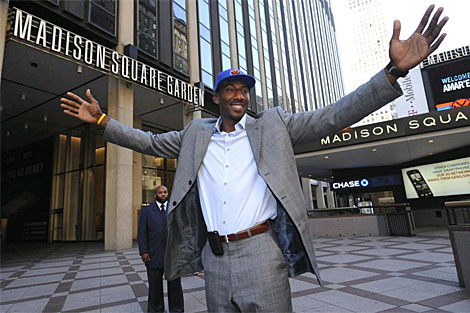 CLICK NEXT TO WATCH THE INTERVIEW