Free Breaks Down Dan Gilbert's Letter To Cleveland
Advertisement
The Breaking Down of Dan Gilbert's letter: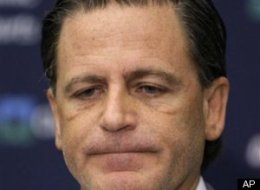 Dear Cleveland, All of Northeast Ohio, and Cleveland Cavaliers Supporters Wherever You May Be Tonight;
Translation: Hello subjects of Cleveland.
As you now know, our former hero, who grew up in the very region that he deserted this evening, is no longer a Cleveland Cavalier.
Translation: The former star quality guy that helped fill up the seats, the other one besides Shaq is gone! He just up and left… and nobody knows why he left. His sneakers are no longer in his locker.
This was announced with a several day, narcissistic, self-promotional build-up culminating with a national TV special of his 'decision' unlike anything ever 'witnessed' in the history of sports and probably the history of entertainment.
Translation: As a Cavs owner I have never seen the likes of a basketball player having the same level of narcissism as me! Is he an entertainer or a basketball player? No real ball player would be smart enough to pull off a media frenzy such as he did. It's a blur between entertainment and sports.
Free: Aren't sports supposed to be entertaining? Moving on…
Clearly, this is bitterly disappointing to all of us.
Translation: Cccccclearly I am pissed off! How dare he leave us before we could trade him?
Free: This is what is really hurting.