Happy October 3rd!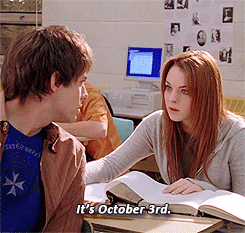 Today we celebrate Mean Girls — a film with more timeless quotables than a some hip hop albums.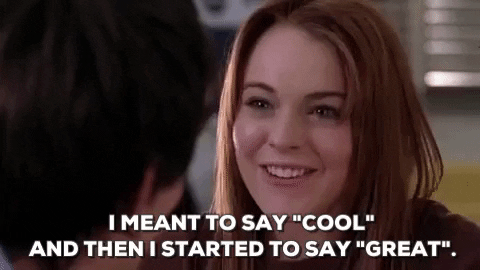 Thanks Tina Fey for penning one of the best female comedies ever. Hit the flip to check out the best quotes from the film that are still valid AF today.
1. Regina George asked the question that most of us think, but were too afraid to ask.
2. Cady Heron had never been so happy to tell someone the date. After all, Aaron's hair looks sexy pushed back. 
3.  That awkward moment when you're invited to a party by your crush and you combine the words great and cool.
4. The sarcastic line that your "best friend" says when she's about to sabotage your high school reputation.
5. How many times a day have you said this about someone you hate? You don't? Oh.
6. When someone's hating on you, just think…
7. This may be the most profound quote from the film, yet 10 years later we're still calling people stupid. Only now we may feel a little more guilty about it:
8. When your parents tell you what you should be doing with your life and you're over 21:
9. When you realize you should've listened to your parents' advice:
10. Have you ever? *Raises Hand*
11. Janis Ian must've been hip to bad gal RiRi before anyone else was. Hey Rihanna!
12. Regina George was wrong; fetch actually did happen.
13. Wise words from the honorable Kevin G:
14. Most girls feel this way at one point during the span of a month:
15. You tell her, Damien!
16. If there's ever a Mean Girls reunion starring the original cast, can we get Glen Coco as a main character? We love Glenn Coco, you go Glen Coco!
17. Although the film is called Mean Girls, Janis Ian was the first person to call someone out as an actual 'mean girl.'
18. This has definitely happened, too many times to remember. #ThatAwkwardMoment:
19. We learned so much about sex ed.
20. And Gretchen got really worked up when Regina wore sweatpants more than once a week.
21. Regina's response?
22. Remember Regina's mom – the cool mom? God love ya, Amy Poehler.
23. Karen's got the right idea.
24. And Karen's boobs may have been able to tell the weather, but she wasn't great with other races. 
25. This girl kinda made us want to bring back army pants.
26. Perhaps our favorite quote that couldn't be more accurate:
27. Ten years from now, we'll still be reciting the same quotes. That's because Mean Girls is the best movie ever! Right, Karen?
28. And you're never too old to recite any of these, because:
Happy Mean Girls Day!