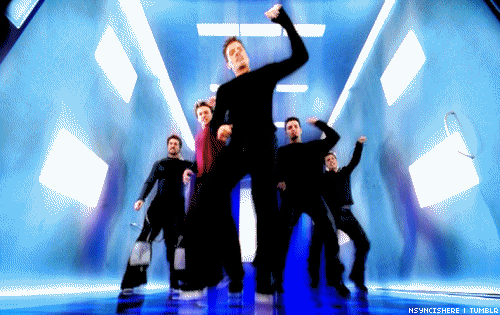 'N Sync representin' for the 9-9 and the 2000s.
Boy band fans hold on to your bloomers, because Justin Timberlake and his 'N Sync comrades are syncing back up for a possible reunion at this year's MTV VMAs. The rumor mill began swirling early this morning that one of the most infamous boy bands in all of boy band history are going to link up to do what boy bands do best – make teenage girls cry with glee.
We're not going to front, the thought of 'N Sync reuniting to perform smash hits like "Bye Bye Bye," "I Want You Back," and "Tearin' Up My Heart," has us a little excited to hear the high-pitched whaling of  JT and JC. Plus, 'N Sync used to have the ill synchronized dance sequences on lock.
In honor of 'N Sync's possible reunion, we rounded up 17 dances they HAVE to resurrect during their MTV VMA performance.
So, get in front of your mirrors people, because you'll need to work on your rusty dance moves after this….
Ohhhh kill'em… 
Ohhhh kill'em…
Ohhhh kill'em…
Ohhhh kill'em…
Ohhhh kill'em…
Ohhhh kill'em…
Ohhhh kill'em…
Ohhhh kill'em…
Ohhhh kill'em…ballet edition. 
Ohhhh kill'em…two times. 
Ohhhh kill'em…
Ohhhh kill'em…
Ohhhh kill'em…
Ohhhh kill'em…
Ohhhh kill'em…
Also On Global Grind:
27 photos
Launch gallery
Source:Instagram
1 of 27
1. Kanye X Adidas. Thank u to Yé for believing in me
Source:Instagram
2 of 27
2. excited to be apart of CR fashion book issue 6 @crfashionbook @carineroitfeld #crfashionbook
Source:Instagram
3 of 27
3. Today's vibes
Source:Instagram
4 of 27
4. Selfie
Source:Instagram
5 of 27
5. Nighty night
Source:Instagram
6 of 27
6. thank u Phillip Lim. Dope show 😍
Source:Instagram
7 of 27
7. Last nights look- Calvin Klein top & skirt, Givenchy coat, Manolo heels
Source:Instagram
8 of 27
8. Hehe my sneak peak vid of my contact look they put on me got bigger than I intended.
Source:Instagram
9 of 27
9. Wolfie
Source:Instagram
10 of 27
10. OOTD/OOTN
Source:Instagram
11 of 27
11. Last night wearing Alexander Wang head to toe!
Source:Instagram
12 of 27
12. I never take selfies with the front camera who knew this shit was so good. Lol. Makeup by me duuuuh
Source:Instagram
13 of 27
13. Turn up.
Source:Instagram
14 of 27
14. #OneEye
Source:Instagram
15 of 27
15. Really though? #SideEye
Source:Instagram
16 of 27
16. Boobs & Hair
Source:Instagram
17 of 27
17. Boobs & Hair
Source:Instagram
18 of 27
18. Ravishing In Red
Source:Instagram
19 of 27
19. Kim Rockin' The Hell Out Of Her Red
Source:Instagram
20 of 27
20. these grocery bags match my fly
Source:Instagram
21 of 27
21. I wore this look the other night on my date night
Source:Instagram
22 of 27
22. Dress In All White
Source:Instagram
23 of 27
23. All White Like An Angel
Source:Instagram
24 of 27
24. Just changed my #KylieHairKouture extensions to my jet black 20" clip ins :)
Source:Instagram
25 of 27
25. Morning Melbourne
Source:Instagram
26 of 27
26. Kylizzle X
Source:Instagram
27 of 27
27. Kim Kizzle