What I guess could be considered as somewhat of a peace offering was LeBron James' full-page ad in the Akron Beacon Journal, thanking his hometown for all of their support throughout his career.
'Akron is my home, and the central focus of my life. It's where I started, and it's where I will always come back to.'
The ad appeared two days after Zydrunas Ilgauskas, who followed LeBron to the Heat, posted a similar ad in The Plain Dealer thanking Cleveland fans for supporting his career.
However James' olive branch was noticeably not extended to Cleveland, home of the Cavaliers and where James played for the last seven years. Leaving the Cavs for the Miami Heat as a free agent last month, feelings towards James in Cleveland are still less than warm and fuzzy, to say the least.
Though 'The former King' of Cleveland fled to Miami to join Chris Bosh and Dwayne Wade, he will supposedly be making an appearance in Akron this Saturday at his annual charity bike-a-thon. Apromixately 35 miles away in Cleveland (a bit too close for comfort), tensions evidently still run high, seeing as a fan wearing a Heat jersey with LeBron's name on it was escorted out of a Cleveland Indians game after he was assaulted with beer and peanuts by angry spectators.
[pagebreak]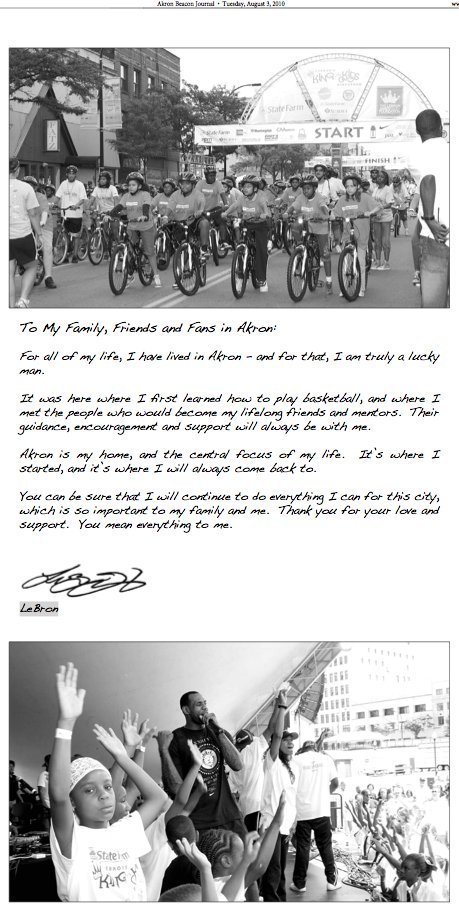 [pagebreak]
Also On Global Grind: