With Mother's Day rapidly sneaking up on us, there's little time left to purchase last-minute gifts, make those brunch reservations, send that bouquet of flowers, and get your camera phones ready. Mother's Day is the one day you get to show your mom love and appreciation for all the things she's done for you, so you don't want to miss a moment.
But relax, it's not what you think. Today is a day that diligent moms get the chance to be lazy, skip the dishes, maybe not even do the laundry. Moms work so hard that they deserve more than just one day off from their 24/7 job. And for millennial moms trying to juggle work, motherhood, youth and more stuff — they deserve a whole month to honor themselves.  But who are these "millennial moms" we speak of?
According to Steadfast Creative:
This is the first time that we are seeing what it looks like for this generation, the generation that got to watch the internet and digital media grow with them, to raise kids. Millennial moms are also the first generation of post-Cold War moms, which seems very separate from marketing until you consider the identity crisis the US has undergone in the absence of an overt adversary.The concept of identity, as well as interconnectivity, help define the priorities of millennial mothers.
Moms of this generations are much cooler than our parents were, but are having children much older than our parents did. They also use technology more than other moms, to help them parent better.
According to Adweek, Millennial Moms are more likely to use their smartphone as a shopping accessory than any other group. This means that they are constantly taking in reviews, looking for coupons, and getting the opinions of other moms they trust.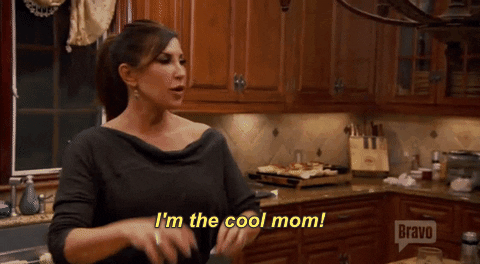 Adweek also uncovered that millennial moms spend essentially an entire work day, about 8 hours, interacting with media in one form or another, even while at their jobs. Combined with the fact that millennial moms overwhelmingly cite reviews, online opinions, and online favorability of brands as deciding factors when shopping, brands have to be everywhere at once, and be extremely proactive in managing their digital reputation.
Celebrity millennial moms make it look so easy and cool, but we all know the truth. Which famous millennial milf are you most like? And if you don't have children yet, take this quiz and we'll tell you which MMM you're destined to be.