What's up Global Grind? Hope everyone's enjoying their summer as much as I am! For the past few (BUSY) weeks, I've been doing a little bit of traveling here and there. I went for a relaxing trip in Jamaica for Jamaica Jumpoff. I'm heading to Vegas in a week for my 21st birthday as well as the celebrity poker tournament, and I've been back and forth on some crazy, exhausting trips to one of my favorite cities in the world: New York.
This was my very FIRST trip to NYC all by myself for such a long period of time and it was absolutely exciting to be alone in the big city. Not only did I get a little daring during my trip and randomly visited a fortuneteller, I got to hang out with celebrity photographer, Markus Klinko to get the inside scoop on his new TV show with Indrani, Double Exposure. I don't want to ruin it, but there's a LOT of awesome stuff in store this season! You'll have to watch on Bravo TV and find out what happens as he shoots some of the most beautiful celebrities in Hollywood, including the Naomi Campbell and Lindsay Lohan, who were shot on the most recent episode.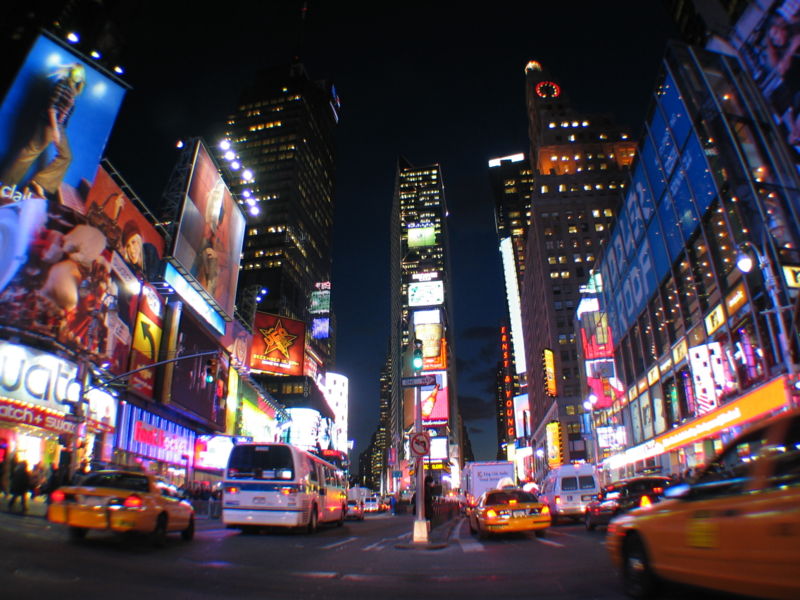 I also had the privilege of being a VIP guest at his awesome premiere for Double Exposure at the Angel Orensanz Foundation. I got to mingle with some important people from the fashion industry and see all the beautiful photos Markus and Indrani have taken. These included stunning – and very famous, portraits of your favorite stars, Pamela Anderson, Beyonce, Iman, JLO, Kanye West, and even the infamous, Perez Hilton. Hmmm maybe I'll be next? ;)
I also ran into my former competition, Angelea, also on America's Next Top Model Cycle 14. She made it to the top 3. Congrats girl!
[pagebreak]
While in New York, I checked in with Bankable Enterprises, Tyra Bank's company, to update them on the life of their Last Call Top Model Pick :)! The staff was super cool and I got to chat it up with them after my interview, which will be posted on Tyra.com within the next few months. After leaving Bankable, I was able to walk around the amazing city of New York and catchup with my friend Kelly Keelo, partner of Juice Hugger, a company of tasty cleansing juices that you'll probably hear more about here on Global Grind. (Ps. I tried their juices! A perfect, healthy option for getting me through my long day of castings in NYC).
After acting like a complete tourist, hitting the Sex Museum and brushing shoulders with Top Model judge and fashion stylist, Nolé Marin, literally on the street, I headed to some of the most prestigious modeling agencies in the business, including Boss, Model Management, Wilhemina, IMG, etc. On my way there, I randomly picked up a new friend, a model from Denmark who was featured on Denmark's Next Top Model, who I ventured around the city with, and later my good friend, Justine Bracero, a future supermodel who was also on the same cycle of ANTM as me! Such a small world. I didn't get signed to any agency just yet and yes I did face the 'Lose ten pounds, then come back!' critique more than once. It was expected to face a little rejection while there. The industry is tough, but the experience of my week in NYC was an eye opening one and I absolutely loved every minute of it. I've never seen so many people all after the same dream!
So no, I didn't get to sign a $100,000 modeling contract during my first two weeks of New York, but of course, I'm not going to give up my dream. I made some awesome new friends in the industry and not to forget, the psychic said I have some good things in store for me this year ;) lol! New York I'll see you soon :) Stay on your Global Grind.
Check out my blog next week to see what's my next move. Hint: It involves Donald Trump!
Keep up wi
Also On Global Grind:
20 photos
Launch gallery
1 of 20
1. Justin Combs: Then
Source:Instagram
2 of 20
2. Now.
3 of 20
3. Samaria Lea Smith: Then
Source:Instagram
4 of 20
4. Now.
5 of 20
5. Russy Simmons: Then
6 of 20
6. Now.
7 of 20
7. Tiny's daughter Zonnique Pullins: Then
Source:Instagram
8 of 20
8. Now.
9 of 20
9. Lily Rose Depp: Then
Source:Instagram
10 of 20
10. Now.
11 of 20
11. Reginae Carter: Then
Source:Instagram
12 of 20
12. Now.
13 of 20
13. Hailey Baldwin: Then
Source:Instagram
14 of 20
14. Now.
15 of 20
15. Paris Jackson: Then
Source:Instagram
16 of 20
16. Now.
17 of 20
17. Kendall & Kylie Jenner: Then
Source:Instagram
18 of 20
18. Now.
19 of 20
19. Willow and Jaden Smith: Then
20 of 20
20. Now.