I understand the summer is over and winter is rapidly approaching but I thought it would be nice to revisit some of our favorite one piece bathing suit moments. This article does not gender discriminate—men and women are both featured! Admittedly, Zach Galifianakis' lovely photo shoot for Vanity Fair inspired this revelation.
There are so many swimsuit styles that one would expect the one-piece to be the most boring option. The celebrities photographed on the next pages confirm the opposite. Beyonce looks fierce in almost everything she rocks, while Jim Carey's look isn't quite right.
Check out more photos of celebs in their one piece bathing suits!
[pagebreak]
Jim Carey sports a black one-piece on the beach.
[pagebreak]
John Mayer chooses a neon suit.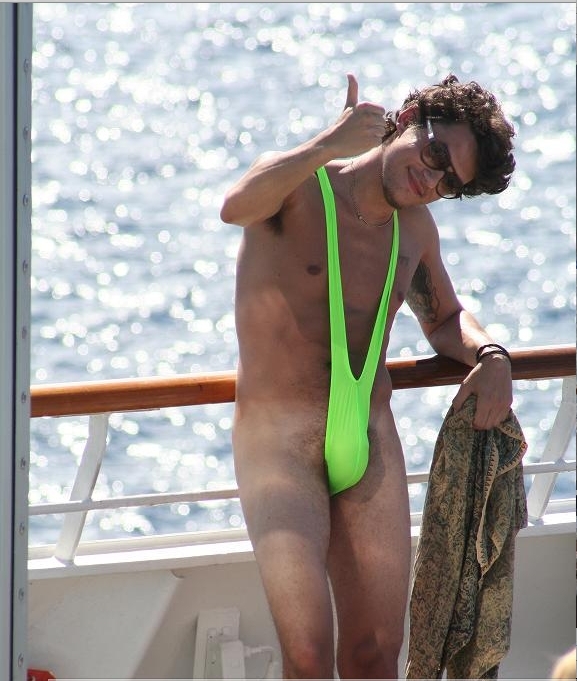 [pagebreak]
Ke$ha wears a one piece in Sydney, Australia.
[pagebreak]
Beyonce is covered in sand from head to toe in her one piece.
[pagebreak]
The Kardashian sisters all wear one pieces for Vegas magazine.
[pagebreak]
Snooki wears a wild animal print one piece.
[pagebreak]
Rihanna enjoys a drink while wearing her one piece.
Also On Global Grind:
27 photos
Launch gallery
Source:Instagram
1 of 27
1. Kanye X Adidas. Thank u to Yé for believing in me
Source:Instagram
2 of 27
2. excited to be apart of CR fashion book issue 6 @crfashionbook @carineroitfeld #crfashionbook
Source:Instagram
3 of 27
3. Today's vibes
Source:Instagram
4 of 27
4. Selfie
Source:Instagram
5 of 27
5. Nighty night
Source:Instagram
6 of 27
6. thank u Phillip Lim. Dope show 😍
Source:Instagram
7 of 27
7. Last nights look- Calvin Klein top & skirt, Givenchy coat, Manolo heels
Source:Instagram
8 of 27
8. Hehe my sneak peak vid of my contact look they put on me got bigger than I intended.
Source:Instagram
9 of 27
9. Wolfie
Source:Instagram
10 of 27
10. OOTD/OOTN
Source:Instagram
11 of 27
11. Last night wearing Alexander Wang head to toe!
Source:Instagram
12 of 27
12. I never take selfies with the front camera who knew this shit was so good. Lol. Makeup by me duuuuh
Source:Instagram
13 of 27
13. Turn up.
Source:Instagram
14 of 27
14. #OneEye
Source:Instagram
15 of 27
15. Really though? #SideEye
Source:Instagram
16 of 27
16. Boobs & Hair
Source:Instagram
17 of 27
17. Boobs & Hair
Source:Instagram
18 of 27
18. Ravishing In Red
Source:Instagram
19 of 27
19. Kim Rockin' The Hell Out Of Her Red
Source:Instagram
20 of 27
20. these grocery bags match my fly
Source:Instagram
21 of 27
21. I wore this look the other night on my date night
Source:Instagram
22 of 27
22. Dress In All White
Source:Instagram
23 of 27
23. All White Like An Angel
Source:Instagram
24 of 27
24. Just changed my #KylieHairKouture extensions to my jet black 20" clip ins :)
Source:Instagram
25 of 27
25. Morning Melbourne
Source:Instagram
26 of 27
26. Kylizzle X
Source:Instagram
27 of 27
27. Kim Kizzle